June 15, 2015
My dissertation advisor at Johns Hopkins sneered at the "Janeites," women (and of course, they were women) who read Auste
n's novels for the love stories rather than the biting social commentary, who believed in the Victorians' version of "dear Aunt Jane," and who – worse – couldn't finish Mansfield Park.
Oh, the horror.
I have learned something recently – the Janeites are having fun.  I am late coming to this community as I have spent my time in the romance-writing world which is fun, supportive, educational, occasionally bawdy, and always tax-deductible.
My introduction to the fun of being a Janeite started with clothes.  I was invited to speak at the Jane Austen Summer Program at the University of North Carolina, Chapel Hill, and there will  be a re-enactment of the Duchess of Richmond's ball (which occurred the night before the Waterloo battle).  I needed a costume.  At first I thought that I could wear my hoopskirt and go as the Greer-Garson version of Pride and Prejudice (a movie that was a full-skirted hymn to anachronism), but I was afraid that I would have to spend all my time explaining that I was witty and ironic, not a perfect idiot.
And I love to sew. I was going to make myself a ball gown.  But a very high waistline and little tiny puff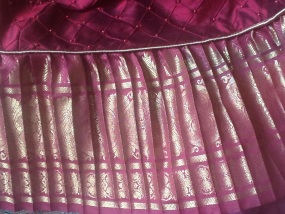 y sleeves? Not so good on me.  So I instructed my computer program (Pattern Master Boutique from wildginger.com)  to draft a more flattering profile.  I ordered silk from the Internet and spent four episodes of Homeland ironing little pleats into the frill that would adorn my hemline.
Although I write novels set in the present, many of my friends write historical romances, and they bemoan the inaccuracy of their covers.  Often the heroine has her back to the viewer, and her dress is open to reveal her naked shoulders and back.  So not only  is the lady not wearing a chemise or stays, but there is no apparent closure device on the back of the dress – at least if the author is lucky, there is no apparent closure device. Sometimes you can see the actual zipper tab (zippers are generally a 20th century thing).
I was mid-way through the construction when I joined a Facebook group of people who construct garments from the Jane Austen-Napoleonic era.  I posted the information about my gown, noting that in the interests of appearing semi-authentic, I was going to hid the zipper in the side seam.
A zipper? Oh, the horror.
I had actually thought about other closures, but my lady's maid does not travel with me (there are a great many things she doesn't do, starting with "exist"), and once I explained to the Facebook group that being more historically accurate wasn't going to make me have more fun, they were all quite nice, patting me on the hand, saying that they had all been beginners once too.  When I did meet one of them in person, I said jokingly, "well, it's not like you sew your dresses by hand, is it?"
Long pause.  "Oh, yes, dear, we do."
If you know sewing, you can see that I not only used my sewing machine, I also used my serger.  The dress is silk, but the lining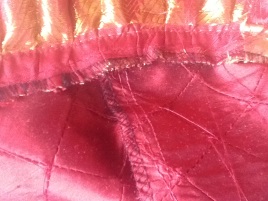 is rayon.  I ordered the fabric off the Internet and used my computer to draft the pattern. I relied on my Rowenta steam-generator iron and my OttLit full-spectrum lighting lamp.  I may be a failure in the historical department, but I had great fun, so much so that I made a second dress to wear during the day, and for it I went really crazy and used fusible tape to apply the trim.
But neither dress has a zipper.  I can put them on over my head.