August 25, 2015
Chawton Cottage, to which Austen, her mother, and her sister moved in 1809,  is now in a quiet village within the boundaries of South Down National Park.  The village has one Church of England school and no retail shops; it is the sort of quiet setti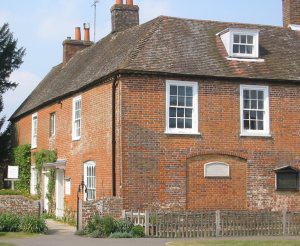 ng that one imagines for an Austen novel.  But in fact, at the time Austen, her mother, and sister lived there, the Winchester Road which ran right in front of the house was a main drag with the 19th century equivalent of a McDonald's drive thru, a car wash, and a 7-11 parking-lot hang-out. The house had once been an Inn, and passengers waited for coaches at the  pond.  So Austen's brother, who owned the cottage, had one of the front windows bricked up for privacy and installed what was probably a very fashionable, if architecturally inconsistent, Gothic window with a more scenic view.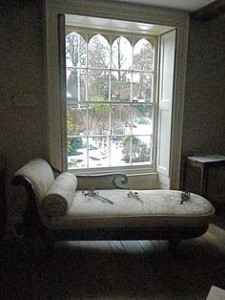 I hope that he arranged for this work to be done before the ladies moved in.  Right now I myself am in the middle of replacing all my windows.  This was how things stood one Friday afternoon at  4 pm: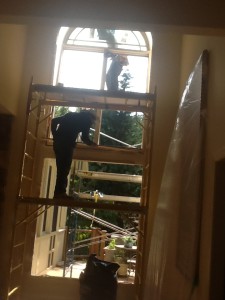 Last Wednesday I had four painters, two carpenters, my cleaning lady, two window installers, and their nine cell phones at my house for the day.   This is not conducive to great thought or even short blog posts.
In Pride and Prejudice the unpleasant Lady Catherine de Bourgh is a widow.  The novel does not specify how her husband, Sir Lewis, died.  But I now know.  Mr. Collins tells us that Sir Lewis had the windows at Rosings Park glazed.  I assume this involved removing the individual panes of glass and replacing the putty, but whatever the procedure was, it would have been enough to kill any homeowner.