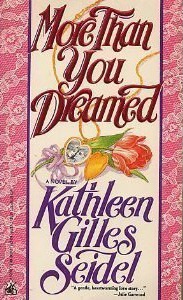 More Than You Dreamed
Pocket Books, 1991
ISBN-13: 978-0671662172
From Publishers Weekly

Seidel should score points among romance readers with lively characterization, careful plotting and details on movies and moviemaking that add spice to her tale.

Jill Casler grew up loving Weary Hearts, the classic 1948 film edited and coauthored by her father, the late "Cass" Casler. Hollywood wisdom has it that Cass brilliantly salvaged the mediocre script that actor Bix Ringling wrote for himself and his brother Charles. But one day Doug Ringling appears at Jill's door inquiring about his late Uncle Bix's original script; he implies that Cass merely "commercialized a masterpiece."

Disturbed, Jill commences her own investigation into the whereabouts of the missing script; despite her industry contacts and determined digging, she uncovers only a conspicuous absence of information. Increasingly uneasy about what her father did to the film and why, Jill travels to Virginia's Shenandoah Valley, ancestral home of both the Ringlings and Caslers, where she and Doug begin to track down the truth behind the making of the film and learn how deep family loyalty can run.