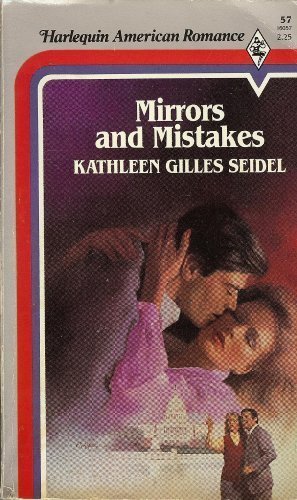 Mirrors & Mistakes
Harlequin American Romance #57, 1984
ISBN-13: 978-0373160808
Patrick Britten is a management consultant for Southard-Colt, a computer systems company. He is organized, fastidious, bright, and ambitious, and is clearly going somewhere within his corporation. He is asked to take over and rewrite a proposal for a project for the Government of India, a piece of business that another employee badly mismanaged. It is a big challenge for him, and one that will require a huge time investment, but if he can make a success of it, he will have a chance at being made a vice-president in the company.

Suzanne Lawrence is an upper echelon secretary at Southard-Colt. She is also intelligent and ambitious. Due to some rather extensive student loans and other debts, she has decided to use her education and other training in a practical way – as a highly paid office manager. She works all of the hours she can in order to pay off her loans as quickly as possible so she can make her own plans. When she is offered the chance to do some overtime work assisting Patrick, she jumps at it.

They soon discover that they have a great deal in common. They are both highly educated, highly competent, very attractive loners. They have the same values and goals. They enjoy spending time together. They understand each other, and a rather startling attraction builds between them. Startling because they are so alike, and how can two such similarly efficient, intelligent, reserved people ever fall head over heels in love?