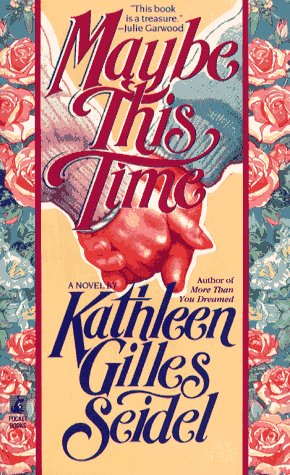 Maybe This Time
Pocket Books, 1990
ISBN-13: 978-0061013874
From Publishers Weekly

Likable, three-dimensional characters, settings replete with convincing details, and a plot that stays mostly within the bounds of reality help this story rise above formula modern romance.

In high school, class stars Emily Gordon and Jeff Grant have their joint future planned. But just before graduation, they are in a car accident and Emily is hospitalized. In the wake of the crash, and without warning, Jeff's best friend, Dave "Woody" Woodman, leaves town and isn't heard from for years. Emily and Jeff's romance cools and they go their separate, highly successful ways.

Then, one day, Emily hears an "oldies" radio program and recognizes the deejay's voice as well as the anecdotes he tells about high school life: it's Woody, spreading Emily and Jeff's youthful triumphs and embarrassments over syndicated radio. On her way to the requisite happy ending, and a resolution of Woody's mysterious behavior, Seidel (A Risk Worth Taking ) weaves past and present friendships and foibles into a satisfying whole.