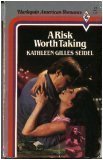 A Risk Worth Taking
Harlequin American Romance #17, 1983
ISBN-13: 978-0373160174
Would their life together be a risk worth taking?

Jess Butler. The one with the hair. The famous country-western recording star. Mrs. Bret Cavanaugh. While all these descriptions fit, Jessica didn't really know who she was. She had come a long way from her Southern roots, but happiness was still ever so elusive. Jessica had one more role to try—that of a true wife, away from the glow of a spotlight. She was willing to chance a daytime existence with Bret—she just prayed he was up to the challenge!

From California to Nashville to Minnesota, popular author Kathleen Gilles Seidel relates a mature tale of deepening love.